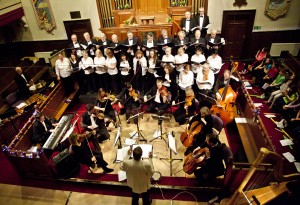 ~ LOCHWINNOCH CHORAL SOCIETY ~
The choir meets in the Parish Church on Monday evenings during term time
Junior Choir 7.15 – 7.45pm
Senior Choir 8 – 9.15pm
JUNIOR CHOIR
Mondays, 7.15pm-7.45pm
The Junior Choir is going from strength to strength and has developed a real character of its own. New members are always welcome and no previous experience is required.
The children's choir is led by the Society's musical director, Gordon Rigby and the choir accompanist on the piano, and at least one member of the senior choir is always present to supervise at junior rehearsal.
Junior choir fees are £5 per term, payable at the start of each session.
We would ask that parents of the junior choir provide us with contact details in case of emergencies or other eventualities. A mobile number and/or email address of a relevant responsible adult will be fine.
Please send details (child's name, your name, relevant mobile number and/or relevant email address) to:
Eric Whitfield
SENIOR CHOIR
Mondays, 8 – 9.15pm
The Senior Choir is open to everyone.
There are no auditions, you don't need to be able to read music – most of the current choir can't – and our repertoire is wide and varied. All we ask is that you enjoy singing. Our aim is to have fun making music and entertain the people of Lochwinnoch. Our annual concerts at Christmas and in the Spring (usually as part of the Lochwinnoch Arts Festival), accompanied by world class musicians from the Scottish Philharmonic Orchestra, are a longstanding tradition in the village. They continue to be very popular. There's always an interesting theme to the concerts – and look out for some occasional high jinks…!
New members are always welcome.
Fees for senior choir are £15 per month (£7.50 for concessions). The fees mainly go on paying the professional musicians who accompany us at our concerts. We have various fundrasing social events throughout the year, such as our winter and spring Round Robin dinners.
So if you fancy a good sing – come along to the Parish Church any Monday night during term time to find out more. It's highly rewarding and great fun!
If you have any questions, do feel free to contact us. The Chair of the Society can be contacted at:
macwhitfields@btinternet.com