Sinister Spectre of a Titanic Tragedy
by Derek Parker
Around 2500 miles separate Muirshiel Country Park above Lochwinnoch from the western Atlantic Ocean where the doomed Titanic steamship sank with the loss of more than 1500 lives 100 years ago this month.
Yet both locations are united eerily by a ghostly shadow whose phantom presence I experienced while working as a countryside ranger at the park more than quarter-a-century ago.
Previously, Muirshiel, with its magnificent 19th century mansion and 3500 acres of moorlands and woodlands, belonged to the wealthy Bates and Fletcher families who made their fortunes from the shipping industry.
I have in my possession a rare photograph of a 21st birthday party taken at Muirshiel around 1930. The ceremony marked the coming-of-age of Bruce Fletcher, the son of Sir Edward Lionel Fletcher, who lived with his family at Muirshiel during the autumn when they came from their Lancashire residence, near Liverpool, to shoot grouse and rabbits.
The historic picture portrays Bruce with his father, mother, sisters Pauline and Esme and their guests in the rhododendron-embowered estate gardens.
In accordance with the traditions of the time, none of the people in the photograph is smiling. It was fashionable then for people to mark important family occasions with sombre facial expressions.
Yet I could not think that the apparent gloominess of what should have been a happy event evoked sad memories of Muirshiel's weird links with the Titanic disaster.
Sir Edward, a commodore in the Royal Naval Reserve, was chairman of the White Star Shipping Line which owned the leviathan liner. This was a few years after that terrible night of April 14 and 15, 1912, when Titanic struck an iceberg and sank below the waves with the loss of an estimated 1517 lives.
The opulent shipping magnate was a familiar figure in Lochwinnoch where he was a keen member of the local golf club and held high office in its day-to-day administration and in the organisation of social and fund-raising events.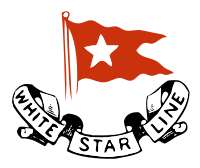 Sir Edward's predecessor at Muirshiel was his father-in- law, Gilbert Thompson Bates, who preceded him as chairman of the White Star Shipping Line around the time Titanic plunged into the watery depths of the Atlantic Ocean, just off the Newfoundland coast, on its maiden voyage from Southampton to New York. Mary Fletcher, Sir Edward's wife, was Gilbert Bates' daughter.
The Fletchers sold Muirshiel in 1935 to Lord Howard of Glossop, who became the Duke of Norfolk and officiated at our present Queen's coronation in 1953.
Lochwinnoch has other mystic links to the Titanic tragedy which has been immortalised in films and books down through the ages.
A train load of chairs was transported from Lochwinnoch railway station to provide luxury seating for travellers aboard the prestigious, but ill-fated, liner. These were manufactured at the village's Calder Cabinet and Chair Works owned by Robert Crawford, Henry Hamilton and James Hunter.
Their destination was the Harland and Wolff shipyard at Belfast where Titanic was erected with the assistance of a crane designed by Sir William Arrol, who was born at Houston and began his engineering career in a cotton-mill in Johnstone.
Among the victims that terrible night when Titanic went down was the Reverend John Harper. He, too, was born in Houston and was on his way to a series of preaching engagements in Chicago when the ship sank.
Mr Harper, who worked at Stoddard's carpet factory in Elderslie and the Smith and McLaurin paper-making company in Milliken Park, Kilbarchan, was well-known and admired in Lochwinnoch which he sometimes visited as a lay-preacher of the evangelical tradition.
Mr Harper's body was never recovered but his memory lives on in the name of Harper Memorial Baptist Church in Govan, Glasgow, which honours his lifetime of service in evangelism.
While working at Muirshiel, I stood one summer evening on the summit of Hill Stake 1712 feet above sea level and looked across the Firth of Clyde towards Belfast Lough where Titanic was constructed.
The sun was shining then all of a sudden its light was dimmed and a snake-like serpentine shadow seemed to slither 100 miles across the sky, sea and hills linking the Emerald Isle with Muirshiel far down in the Calder Glen.
It was like the sinister spectre of the sinking steamship sailing on a phantom journey between the doomed vessel's birthplace and the magnificent estate where long-dead magnates of the company which fashioned her once lived and celebrated a son's 21st birthday.
Derek Parker worked as a countryside ranger at Muirshiel Country Park from 1985 to 1999